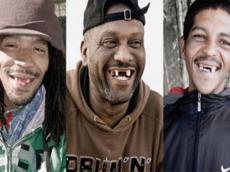 It's rare for fashion trends to last as long as 60 years. But this one tradition has never gone out of style among generations of youth in Cape Town and other regions of South Africa – dental modification. It sounds odd, but the South African youngsters actually like to sport toothless smiles, after getting their front teeth removed.
Dressed mostly in baggy sweaters and caps drawn low over shiny sunglasses, the gummy smile is unique to these young South Africans who like to strike gangster poses. According to 21-year-old Yazeed Adams, "It is fashion, everyone has it." The trend is often referred to as the 'Cape Flats Smile'. The name comes from a populous neighborhood where this bizarre body modification is done by a large number of teens. But Jacqui Friedling of the University of Cape Town's human biology department, who studied the phenomenon in 2003, says that she found fashion and peer pressure to be the main reasons for removing teeth, followed closely by medical reasons and gangsterisms. "It is the 'in' thing to do," she says. "It went through a wave, it was fashionable in my parents' time." True enough, the practice has been around for at least 60 years now. Traditionally, dental modification such as filling of teeth and ornamentation was found only in tribal people.
In modern Cape Town, it is seen as a rite of passage for teenagers, most often from the poorer families. Some stories say that the tradition started from the fisherman, who couldn't communicate with each other on boats. So they created the 'gap whistle' as an effective means of communication. The men today feel their 'gaps' attract women, and vice versa.

/Oddity Central/