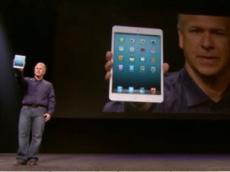 g Apple has revealed a new smaller iPad mini with a 7.9inch screen.
It will cost from $329 to $659 in the US and was revealed by Apple's Phil Schiller at a special event in California.
'You can hold it in one hand, this isn't a shrunken down iPad, its an entirely new design,' he said.
Apple's new iPad mini has a 7.9inch screen and will be available in black and white.
It has a 1024 x 768 pixel display
It weighs 0.68 lbs which the firm says is 'the same as a book'
7.1mm thick, described as 'as thick as a pencil'
Dual core A5 chip
10 hours battery life
The firm also revealed a new version of its larger iPad.
Apple boss Tim Cook has taken the stage at San Jose's California theatre to introduce Apple's latest blockbuster product - which is believed to be a mini tablet set to fend off competition from Amazon's Kindle Fire and a raft of relatively cheap smaller tablet computers.
He promised 'We've got some really exciting things to show you', and revealed the firm has sold more than 3m of its new iPods and sold more than 200 million devices running iOS 6, the latest version of its mobile software.
Cook also revealed Apple has now sold over 100m iPads around the world, saying 'people love their iPad.
'We couldn't be more thrilled by how quickly iPad has been embraced - but we know we are just getting started.'
Apple's Phil Schiller also introduced the 4th Generation larger iPad with a new faster processor and support for 4G networks around the world.
It will sell at the same price as the existing iPad.The firm also completely revamped its Mac computer range with a new 13 inch Macbook laptop, a Mac Mini computer the size of several CD cases and a new thinner iMac desktop computer.
Apple's Phil Schiller first introduced a new version of the firm's popular 13inch Macbook portable computer that is .75inch thick and has the firm's high resolution retina display.
It will cost from £1449 ($1699 in the US), and is available from today.
the firm also showed off a new version of the Mac mini, its small Mac the size of several CD cases which will cost from $599 in the US.
The firm also revealed a new thinner version of its iMac desktop computer just 5mm thick, but dumps the optical drive found in previous versions (although Schiller said a separate drive was available 'for those stuck in the past')
It will be available with a 21.5inch and 27inch screen, and goes on sale in November costing from from £1099 ($1799 in the US).
APPLE IN NUMBERS
Tim Cook revealed Apple's latest stats:
•    There are now 200 million iOS 6 devices
•    100m iPads sold
•    125 million documents in the cloud
•    300 billion iMessages sent
•    160 million player signed up to play games online
•    70 million photos shared
•    700,000 apps
•    275,000 iPad apps
•    35 billion apps downloaded
•    $6.5bn paid to developers
•    1.5 million books, 400m downloaded
The firm also revealed a new version of its iBook reading software, adding a continuous scrolling support and Japanese text.
The new shrunken iPad is rumoured to have a screen that is 7.85inches across the diagonal – which compares to 9.7inches on the original version.
The firm is also rumoured to be introducing a new Macbook computer with a high definition Retina display, and possible new iMac desktop machines.
Interest in the new gadget has been huge - with monitoring firm Experian Hitwise saying 1 in every 6000 UK internet searches last week were for the iPad mini.
Piper Jaffray technology analyst Gene Munster said in a note to investors that he expects the iPad mini to launch on 2 November.
 The firm believes Apple could sell 5 million iPad minis in the December quarter, but that will be at the expense of 1 million 9.7in iPads.
'For every 5 million smaller iPads, you lose 1 million standard iPads,' Munster wrote.
The Mini launch comes as research suggests a quarter of us - 22 per cent - own a tablet, with another three per cent regularly borrowing someone else's tablet for web browsing.
About 68 per cent of the 9,5123 adults surveyed said they purchased their tablet within the last year.
The U.S. survey by the Pew Research Center also suggests the flood of cheaper tablets, such as the Google Nexus or Amazon Fire, are weakening Apple's grip on the market.
A year ago, Apple had more than 80 per cent of the market, but this has now dropped to less around 52 per cent.
The Kindle Fire has 21 per cent of the market, meanwhile Samsung's Galaxy tablet has eight per cent.
Out of those surveyed, 44 per cent of adults who said they have a smartphone, 46 per cent have an Android phone, 38 per cent, have an iPhone and 10 per cent have a Blackberry.
The tablet market has also grown among children as young as three.
For the first time, UK telecom regulator Ofcom has researched the media habits of 3-4 year olds.
It found one in ten (9%) 3-4 year olds use a tablet at home, according to their parents.
Over a third (37%) are going online using a desktop PC, laptop or netbook.
This is possibly to do activities such as look at a website, watch a TV programme or play games online, Ofcom believes.



*****
Apple has launched its widely-anticipated 7.9in (20.1cm) tablet, the iPad Mini. The device, which is 7.2mm thick and weighs 0.68lbs, was announced at an event in California.
In the US it will cost $329 (£206) for the wi-fi-only 16GB model, and will be available on 2 November.
The iPad Mini will compete directly with similar sized tablets from Google and Amazon.
The firm also announced upgrades to its Macbook Pro, iMac and Mac Mini ranges of computers.
The iPad Mini launch ends years of speculation that Apple was considering launching a new, smaller version of its bestselling iPad range.
In 2010, late founder Steve Jobs described 7in tablets as being "too small".
However, the company's apparent change of heart comes in the face of mounting pressure from its closest competitors, who are already offering smaller - and crucially, cheaper - products.
Amazon's new 7in Kindle Fire HD costs $199 (£129 in the UK). A slightly larger version, shipping on November 20, will sell for $299 (£159). Google's Nexus 7 has a price tag of $250 (£159).
/BBC, The Daily Mail/