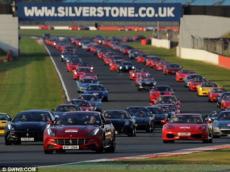 For supercar fans, this is what you call the ultimate beauty parade... a fleet of 964 record-breaking Ferraris worth £100million.
Snaking around Silverstone, 964 Ferrari owners have set a new world record for the biggest ever supercar parade.
The most expensive traffic jam of all-time is led by Formula 1 Ferrari driver Felipe Massa at the wheel of a black Ferrari 458 Spider.
Petrolheads gathered at Silverstone race circuit in Northamptonshire to see the record of 490 set in Japan four years ago comprehensively smashed.
Featuring models from the last 40 years, the total fleet boasted more than 500,000 horsepower. So many Ferraris took part there was only 250m of road free on the 5.8km track.
Dave Whiteley, 61, from Birmingham, who drove his 1983 Ferrari 308, said: 'I've never seen so many Ferraris in one place and I've been a member of the Ferrari Owner's Club for 14 years.
'It's incredible, a lot of people appreciate Ferraris and this has made a lot of people's day. I took part in the 2007 record and then the Japanese beat it.
He added: 'Hopefully today has made it impossible for them to beat. It has been exceptional.'

/metro.co.uk/