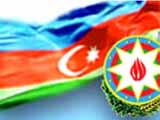 Uzbek Deputy Premier, Minister of Foregin Economic Relations, Investments and Trade Elyer Ganiyev said in his meeting with Azeri Economic Development Minister Shahin Mustafayev that National Exhibition of Azerbaijan in Tashkent has been very well organized.
Ganiyev said it was the wise decision of presidents Islam Karimov and Ilham Aliyev to organize such an excellent exhibition in Tashkent. "And we managed to realize it."
The Prime Minister pointed out Uzbekistan`s National Exhibition would be held early December in Baku.
Shahin Mustafayev, in turn, said the exhibitions held in Tashkent and to be organized in Baku would contribute to developing relationship between Azerbaijan and Uzbekistan. He underlined the two countries had great opportunities to cooperate in all spheres of economy. "I think we will use these opportunities efficiently."
Mustafayev briefed Ganiyev on the ongoing social and economic reforms in Azerbaijan.
During the meeting, they also signed several documents to deepen relations between the two countries` enterprises. Azerbaijan`s ambassador to Uzbekistan Namig Abbasov was also present at the meeting.
/AzerTAc/
Related articles:
Uzbek premier visits Azerbaijan's exhibition in Tashkent
"Azerbaijani exhibition in Uzbekistan to become 'milestone' in economic relations"