Photo exhibition "Houses that have become museums" has opened in Azerbaijan State Art Museum named after Mustafayev as part of the "Language and Art of Italy" program.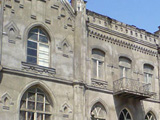 The exhibition features photographs by Italian artist Omar Keyraou. The artist himself said that the majority of his shots are made in the homes of prominent figures of Italian culture and art, including Giuseppe Verdi.
Keyraou said he really liked Baku. However, he has not got familiar with the houses in the city yet. Each house has its own unique atmosphere, which is reflected in the picture, the artist said.
Ambassador of Italy to Baku Mario Balda, speaking at the opening ceremony, told about "Language and culture of Italy" program and stressed the importance of such events for cultural relations between the two countries.
The opening of the exhibition was also attended by Azerbaijan's Culture and Tourism Minister Abulfas Garayev and Azerbaijani Ambassador to Russia Polad Bulbuloglu. The event saw performance of well-known Italian pianist Stefano Rani, who performed the works of European classics.
/ANS PRESS/