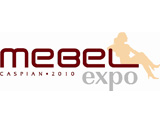 Caspian MebelExpo 2010, the 8th Caspian International Furniture, Interiors and Design Exhibition, will take place on 20-23 October in the newly-built Baku Expo Center.  It is the only specialised event for the furniture industry in the Caspian and Caucasus region.  The exhibition is held alongside the major Azerbaijani construction exhibition BakuBuild. Every year, Caspian MebelExpo demonstrates the diversity of products and offerings in the market, providing reliable information about the main trends in the region's furniture industry, thus helping to attract investment in Azerbaijan's furniture sector, and develop the industry and local production.
The exhibition is supported by the National Confederation of Entrepreneurs' (Employers') Organisations of the Republic of Azerbaijan, and organised by ITE Group and its partner in the Caucasus, Iteca Caspian.  The partners of the autumn exhibitions in 2010 are Azerfon-Vodafone, Pasha Sigorta, Caspel, Greenwich Travel Club, SIAR and the Caucas Point Hotel.
This year, Caspian MebelExpo will feature companies from Azerbaijan, Germany, Iran, Lithuania, Oman, USA and Turkey.  The show will present a wide range of furniture products, including: furniture suites and accessories, fittings, new generation parts and finishing materials, advanced design technologies and original solutions in furniture design, interior design, wallpapers, home textiles, lighting, mirrors, crystal and much more.  In addition to the traditional products, orthopaedic mattresses, and garden and conservatory furniture will be presented.
The exhibition will include presentations of original products, such as elite waterproof wicker furniture for swimming pools from Spain.  Embawood will give a presentation on a new furniture brand, Madeira.  
The exhibition is, therefore, an important international event, which will not only introduce the Azeri public to new products in the field of interior design, but also help to establish successful business cooperation between manufacturers and the business community and prospective buyers in Azerbaijan. In addition, Caspian MebelExpo will help saturate the Azerbaijani market with quality furniture products and address an important social objective: improving the quality of life of Azerbaijan's citizens.
/Today.Az/