President of Azerbaijan Ilham Aliyev visited the 3rd international Agriculture, Food Processing and Packaging Exhibition "Caspian Agro - 2010".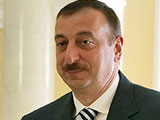 The Head of State viewed agricultural facilities of Minsk and Ganja automobile plants. The exhibition is aimed at highlighting agricultural goods produced in Azerbaijan and attracting foreign investors.
The exhibition, which is co-organized by the Azerbaijan Ministry of Agriculture and Azerbaijan Chamber of Commerce and Industry, brings together more than 80 companies from Azerbaijan, Belarus, Georgia, Cuba, Spain, Qatar and Iran. Active participation of local companies in the exhibition is an evidence of Azerbaijan`s increasing export potential.
President Ilham Aliyev also viewed pavilions of Azerbaijan's Agriculture Ministry and Nakhchivan Autonomous Republic, as well as companies specializing in poultry farming, wine-making and agricultural technology.
/AzerTAc/