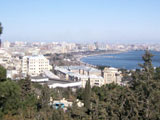 The exhibition will feature over 100 companies from 19 countries, including Azerbaijan, Turkey, Germany, Russia, Ukraine, Canada and Italy. Local and international companies will showcase the latest medical and laboratory equipment, software, medical furniture and sterilising equipment.
Among the newcomers to BIHE is Bavaria Medical Group, whose member companies will present state-of-the-art medical technology and equipment, orthopedic products and disinfectants. The pharmaceutical sector at this year's exhibition will include companies from Russia, Ukraine and Belarus. Polish and German companies will present their services to visitors in the overseas treatment sector.
This year, for the first time, the exhibition will cover hi-tech areas of medicine, such as biomedicine, nuclear medicine and medical applications of nanotechnology. The BIHE international exhibition is an excellent platform for establishing new business contacts and strengthening existing ties.  It is the only international medical exhibition in the region.
BIHE is the ideal place to become acquainted with Azerbaijan's healthcare market. BIHE 2010 is supported Ministry of Health of the Azerbaijan Republic, National Confederation of The Entrepreneurs (Employers) Organizations of Azerbaijan Republic and Azerbaijan Stomatology Association. 
/Iteca Caspian/