Plants from the Girkan National Park located in southern Lankaran region of Azerbaijan will be on display at the exhibition of relict plants in Switzerland, according to the Azerbaijan National Academy of Sciences.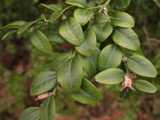 Specialist of Fribourg University at tropical and subtropical plants Roland Keller and Deputy Director of the Museum of Natural History in Fribourg Emmanuel Gerber visited Girkan National Park to study the relic plants.
After joint studies the Azerbaijani and Swiss botanists decided to study plants spread within Girkan. They collected plants to showcase them in relic plants exhibition to be held at the Museum of Natural History in Fribourg.
The meeting held at the ANAS Institute of Botany, Botanical Garden and Biological Department of the University of Fribourg and the Institute of Botany of ANAS discussed further cooperation in the framework of the "Global Plan for Conservation of Zelkov Plant Species."
/1news.az/