For the first time an exhibition on construction and heavy equipment, which will last till June 20 with the organization the Turkish company "Meridian fuarchilig" has opened in Baku.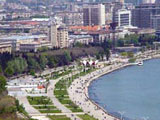 The exhibition is attended by 59 leading Turkish companies, 26 of which are engaged in manufacture of heavy equipment. According to the Turkish Ambassador to Azerbaijan Hulusi Kilic, the exhibition is held for the first time and will make an important contribution to the Turkish-Azerbaijani relations.
In recent years, the number of exhibitions held in Azerbaijan has increased, which is related with  expanding trade and economic life in the country, the diplomat said. The exhibition opened at the Sports-concert complex named after Heydar Aliyev. Various equipment, building materials, the latest devices were presented at the exhibition.
According to the coordinator of the company on Azerbaijan Alper Cekic, holding such exhibitions is related with the development of building sphere in Azerbaijan. The main goal of the exhibition is to familiarize local producers and consumers with the latest developments in this area.
/
Trend
/