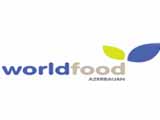 The 16th WorldFood Azerbaijan International Food Industry Exhibition will be opened on the 19th of May in Baku at the Heydar Aliyev Sports and Concert Complex. The exhibition's organisers are Iteca Caspian LLC and ITE Group PLC. Support for this exhibition is provided by the National Confederation of Entrepreneurs of Azerbaijan (ASK). The exhibition was recognised by the UFI International exhibition community. The sign "Approved by UFI» is the evidence of compliance with all international standards.
This year, WorldFood Azerbaijan involves 85 companies from 18 countries, including Azerbaijan, Belarus, Bulgaria, Latvia, Pakistan, Russia, the United States, Turkey and Ukraine. The exhibition features leading brands, such as «Badamli», «Beta», «Jalə», «John Deere», «PalSud» among others. Roughly 60% of the participants are local companies. Newcomers to the exhibition are from Hungary, Iran, France, the United States and the UAE. In total, national stands account for 30% of this year's exhibitors. 20% of the exhibitors are regular WorldFood Azerbaijan participants, who have successfully demonstrated their products and services at the exhibition for several years, such as CPC (Azerbaijan), Gilan (Azerbaijan), PIM (Bulgaria), Rogachev Dairy Plant (Belarus), Plattenhardt + Wirth GmbH (Germany), ABP (Turkey) and Akmaya (Turkey). Expansive geography of the exhibition is the result of a partners' network EUF (Turkey), GIMA (Germany), ITE Gulf (Dubai), ITE China (China), ITE Poland that actively attracts international companies to this showcase in Azerbaijan.
WorldFood Azerbaijan-2010 is divided into several thematic exhibits - WorldFood, WorldDrink, FoodPack and WorldFoodTech - and will occupy the exhibition complex's inner and outer pavilions. Traditional WorldFood sections are meat and poultry, canned foods, dairy products, ice cream, groceries, fruits and vegetables, dietary foods, tobacco, and honey. Goods are presented from local plants and factories in Barda, Dashkesan, Gabala, Salyan and Shorabat, as well as other Azerbaijani regions. The Nakhchivan Autonomous Republic's united stand features 20 local food industry manufacturers.
Currently, the wine-growing industry in Azerbaijan is experiencing an upturn. Experts from France, Moldova and Italy are building new plants for processing grapes and producing wine. In this regard, WorldDrink represents a rich assortment of drinks and production lines.
A variety of packaging equipment from Azerbaijan, Italy, Turkey, and Russia can also be found at World FoodPack. The exhibition presents the latest packaging and bottling equipment technologies, which haven't been used in Azerbaijan.
WorldFoodTech demonstrates equipment for the food industry and laboratory analysis. It is remarkable that this year exposition of equipment for starting production, for instance, equipment for mini-plants and small entrepreneurship, has expanded. A state program for reliable food product provision covering 2008-2015 focuses on poultry meat and broiler farm production, as well as their reconstruction through the use of modern technologies. In this regard, the exhibition presents poultry farming and all types of refrigeration equipment.
The exhibition will continue it's tradition of promoting new industries this year. For the first time in the Caucasus in the framework of the exhibition, HalalFood Azerbaijan will be represented. This sector will bring together manufacturers of "Halal" products from Azerbaijan and other countries.
In 2010, WorldFood Azerbaijan will held cooking presentations and brilliant shows. Thus, at the stands of participating companies, you will be able to witness first-hand the process of baking bread, taste honey and do so much more.
The exhibition's partners this year are Pasha Sigorta, Azerfon-Vodafone, Caspel, Qafqaz Point Hotel, SIAR, and Az.StarNet. The exhibition's official Internet provider is Az.StarNet, which will organise wireless Internet access (HotSpot) for exhibition participants and visitors.
Over the years, the exhibition has acquired a significant target audience and become a business platform for industry professionals. The exhibition's 16 years on the market make this international-scale event a reliable foundation for annual meetings among food industry professionals. Without a doubt, WorldFood Azerbaijan covers each and every aspect of the food industry and is a significant event for both the country and the region. A business forum at the exhibition also facilitates international cooperation, diversifies food products, promotes industry interests, increases investments and introduces new food industry technologies. The exhibition will run until May 21. Next year, the exhibition will take place at the new Baku Expo Centre.
/Today.Az/