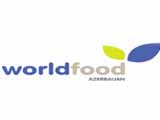 World Food Azerbaijan, the 16th Azerbaijan International Food Industry Exhibition, will take place in the Heydar Aliyev Sport and Concert Complex in the capital of Azerbaijan on 19-20 May.  The exhibition is organised by Iteca Caspian LLC and ITE Group Plc (UK).  Support is provided by the National Confederation of Entrepreneurs' (Employers') Organisations of the Republic of Azerbaijan.  The partners of this year's exhibition are: Pasha Insurance, Azerfon-Vodafone, Caspel, Qafqaz Point Hotel, SIAR and KREA.  The exhibition has 'UFI Approved Event' status from the Global Association of the Exhibition Industry (UFI).        
This year, 120 companies from Azerbaijan, Belarus, Bulgaria, Hungary, Iran, UAE, Pakistan, Russia, USA Turkey, Ukraine and other countries are expected to take part in World Food Azerbaijan.  Thirty percent of the exhibitors will be newcomers.  World Food Azerbaijan 2010 will be subdivided into several thematic exhibitions, covering almost all the areas of the food industry.  World Food Drink will feature a wide range of drinks; SeaFood will present seafood products and everything associated with their transportation and storage; WorldFoodTech will exhibit equipment for the food industry, supermarkets and laboratories; and FoodPack will introduce visitors to a vast selection of packaging equipment from Azerbaijan, Turkey, Russia and other countries. 
This year, there will be a greater display of equipment for beginning production – for example, equipment for mini factories starting production.  The exhibition will present the traditional sectors: meat and poultry, canned goods, dairy products, ice cream, groceries, fruit and vegetables, children's and dietetic food, tobacco products and more.  
This year, for the first time in the Caucasus region, World Food Azerbaijan will include HalalFood Azerbaijan, which will bring together manufacturers of halal products from Azerbaijan and other countries.  This sector of the food industry is becoming increasingly important.  In 2008, the global halal market was worth $580 billion.   
Amidst the global economic crisis and continuing growth of food prices, the Government of Azerbaijan has outlined comprehensive measures to increase food production and develop the agricultural industry.  In this context, World Food Azerbaijan is an effective business platform allowing industry professionals to follow the latest development trends in the market.  It also enables producers and sellers to establish useful business contacts and diversify their product range, which will lead to the saturation of the market and stabilisation of demand for food products in Azerbaijan.  
/Today.Az/