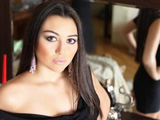 Seems like Azerbaijani singer Safura Alizadeh follows the steps of Eldar Gasymov and Nigar Jamal - she became a part of the cast for turkish tv-series "Flower of Darkness".
"I agreed to participate in this project almost immediately. Although I have a very tight schedule, I always loved movies, and this was exactly what I wanted. I am happy to be a part of this production," said Safura.
Singer added, that she was happy to work with such professionals. Also, she shared some details of her character in the tv-series.
"My character is a usual girl, I play a young babysitter. My character is a very simple person, however to play her on-screen was tough. I am pretty sure that viewers will be surprised when they see me. The film promises to be a life drama, and I really liked doing it. Whole crew was great, we became like a big family during the production", added Safura.
/1news.az/