Exclusive Today.Az interview with Hollywood superstar, Jean-Claude Van Damme.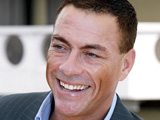 At first, we have requested Mr. Van Damme to comment on his new upcoming sci-fi action film "Universal Soldier 4", however veteran Hollywood actor did a little bit more, by agreeing to do a complete interview with us. So, read on below, as Van Damme talks about his favourite movie, the new Universal Soldier film, Baku, and how he choses his movie parts.
Mr. Van Damme thanks a lot for finding the time. You had a short trip to Azerbaijan back in 2006. What we would like to ask is, what are your memories of our country? Would you ever visit again if having an opportunity?   
First of all, thanks for giving me a chance to answer these questions, and most importantly best wishes to all my friends in Azerbaijan. Baku is quite a place! I hope to see you there soon.
One of your movies, "JCVD", was reportedly, the best example of your acting. Movie critics all pretty much agreed on that. What character (acting wise) would you like to play onscreen that you haven't played before?
You know, I really enjoy the chance "to stretch my legs" so to speak, it's less what the character is, more of the chance to play a variety of characters with really good scripts. That was the case.
Mostly your career (especially the early films) consists of martial arts related movies. Which of those you yourself believe was the best? Which one you enjoyed doing most?
I enjoyed all of them in their own way, but I have to say that "KickBoxer" was special, my acting was just beginning, but my heart was completely in there.
Some time ago you turned down an offer from Sylvester Stallone to star in his star-overloaded action blockbuster "The Expendables". According to the media, and numerous reports it was because you did not like the character you were supposed to portray. As of now, "The Expendables 2" is among the most awaited films of the year. Looking back, do you regret your choice?
I will be in Expendables 2, I would have loved to be in part one as well, but my schedule didn't permit it.
Every movie superstar has to adjust to changing times, and action stars are no exception. How does Jean-Claude Van Damme sees himself when he will no longer be able to star in action movies? Would you switch to acting-only roles, stick to directing and writing only or maybe a change of profession?
First one always adjusts with the times. I love acting, I love action, lets see how things go, I still have some time left.
According to your own words, the filming of UNISOL4 has been completed, and it "will have action scenes like no one ever seen before". By that, did you mean the fight scenes, or overall action scenes of the film?
I wouldn't want to go into details right now. The answer on this is - wait till you see the film itself.
Director John Hyams said he has his own vision of the film, noticeably he said that this is not going to be a straight sci-fi action movie, that there are elements of horror and psychological thriller as well. In your own opinion, would fans be ready for something like that?
It's like the song "It's now or never", of course they will be ready. "Universal Soldier 4" was a blast, its Sci-Fi, its action, and its really well done.
Actors sometimes refuse to get back to the parts/projects they once played/participated in. Unlike them, after Universal Soldier: The Return (1999), You made UniSol: Regeneration in 2009, and now UniSol: New Dimension is coming. Is it simply because You like getting back in Luc Deveraux's shoes, or it all depends on the production itself?
It always depends on the script, the timing, and whether I can get in to the part or not.
T. Teymur
/Today.Az/
Attached Jean-Claude Van Damme gallery: