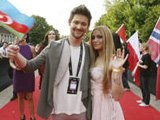 The winners of "Eurovision-2011", Azerbaijani duo Eldar & Nigar have recently signed contracts with the leading lables in Russia, Spain, Portugal, Turkey, as well as in Scandinavia, and some countries in Eastern Europe.
Aside from that, the duo also signed separate contracts in Australia and New Zealand, according to the official website of the contest.
As it is obvious that the winners of "Eurovision-2011" Eldar & Nigar are considered megastars now, and are the hottest topic not only in the local media, but in the western media as well.
/Vesti.Az/