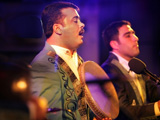 As regular listeners to the BBC Radio 3 World Routes programme will be aware, presenter Lucy Duran is a staunch advocate of Azerbaijani music. In 2008, she presented two hour-long documentary programmes from Azerbaijan, charting the history and regional styles of mugham, ashiq and folk music. Later that year, the astonishing mugham singer Gochag Askarov was invited to perform on the Radio 3 stage at WOMAD with his Sari Gelin Ensemble, the concert being broadcast live.
Askarov has recently become an international ambassador for mugham, playing a tour of concert halls around the UK on the same bill as various ashiq musicians. His landmark performance at WOMAD New Zealand introduced Kiwi audiences to the music. Askarov was also only the second person to play mugham in Australia when he appeared at WOMADelaide and broadcast on Radio Australia. Bird Walk Records, an Australian label, has just released Music from Azerbaijan, his first CD cut with Turan, Askarov's most recently-formed mugham ensemble, produced by musicologist Sanubar Baghirova.
It thus came as no surprise that Askarov was invited to participate in a radio recording of the World Routes Tenth Anniversary Concert at the historic BBC Maida Vale studio on 26 November. Playing with Turan, Askarov focused on demonstrating the various façets of mugham performance and the purity of his three-octave vocal range. Led by tar player Malik Mansurov, who accompanied Alim Qasimov for 15 years, all musicians are acknowledged virtuosi on their instruments, being able to accompany a vocalist or perform solo. They are also aiming to breath new life into the mugham repertoire with their unique arrangements and selection of compositions.
The concert began with an instrumental folk dance entitled Hey, nour, demonstrating the virtuosic interplay between Mansurov, Elnur Mikailov (kamancha) and Shukur Aliyev (nagara) as the tempo increased. This featured sustaining notes on the kamacha during the tar solo and the almost vocal qualities of the kamancha in its higher register. The remaining three compositions focused on Askarov's voice. Performing with closed eyes, his emotion was palpable, daringly jumping octaves and increasing tempi.
The enthusiastic audience bore testament to his artistry. Simon Broughton, Editor, Songlines, commented: "Turan is the best Azerbaijani mugham ensemble I have heard. Azerbaijani music is an unknown treasure for the international public." James Parkin, Senior Producer, World Routes remarked: "Gochag Askarov is amongst the top singers in the world."
/Today.Az/