TURKSOY and the Eurasian Writers Union co-organized a commemoration event devoted to People's poet Rasul Rza's 100th jubilee.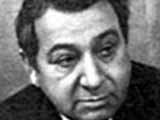 Addressed the event the Turkish Minister of Culture and Tourism Ertogrul Gunay spoke about the poetry of one of the notable poets of the Turkish world Rasul Rza. TURKSOY Secretary General Dusen Kaseinov spoke about the organization's activities in the propagation of Azerbaijani culture and literature. He noted also about the publication of Rasul Rza's book.
Rasul Rza's son, People's poet Anar thanked the participants of the event for their respect for his father's memory. He emphasized the Azerbaijani President Ilham Aliyev's order on marking the jubilee of Rasul Rza in most of countries, as well as in different cities of Turkey.
The ceremony featured the display of a documentary film about Rasul Rza. During the event, the Azerbaijani singer Javid Tabrizli performed songs composed to the poems of Rasul Rza.
/Baku-Art.Az/