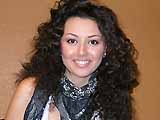 Euromedia & Luxen Group of Companies had begun promotional activities for Safura arranging the shooting of several TV trailers. It's fair to say that this kind of approach to promoting a single talent for Eurovision is as unprecedented as it is expected to rake in some serious dividends.
Last year the fiery duo Aysel & Arash took the bronze hugely due to the gigantic and simultaneous media effort coordinated by Euromedia & Luxen Group and this year the previous experience which is impossible to underrate is going to be put to good use when TV trailers begin rotation on the most important European networks in two weeks.
Also while in Kiev Safura has been actively preparing for the shooting of the Drip Drop music video and working on the stage act. 'These guys spare no effort – I hope my clip and my stage performance will be spectacular', Safura commented. It is expected that both the music video and the stage act will be ready in approximately 3 weeks.
/Eurovision Talents/