They've been together for more than three years and have two children. Now, Nicole Richie and Joel Madden are planning to make it official.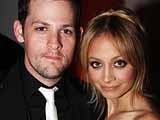 Richie said Monday night during a taping of the Late Show with David Letterman that the couple are engaged to be married.
After the show, Richie headed to the New York restaurant Abe & Arthurs – without her fiancé – for dinner. "She was glowing," says a source. "She was telling her table how happy she was."
Richie, 28, and Madden, 30, began dating in December 2006 and have daughter Harlow, 2, and son Sparrow, 5 months.
And while they've been living as a close-knit family, as recently as October Richie dashed engagement rumors. "One day I would love to get married," she said. "It's not something we're talking about right now. If my kids ask me to get married, I'd get married.
/People/