Victoria Beckham has unveiled her fourth collection at New York Fashion Week.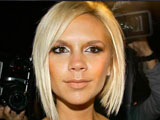 The former Spice Girl displayed a selection of her dresses to an invited audience and revealed that the latest line was inspired by comic book detective Dick Tracy.
"I feel the clothes express how my own personal style has evolved, more relaxed, a little more slouchy, but still structured," The Daily Telegraph quotes her as saying.
Beckham claimed that the fashion industry had started to take her seriously as a designer and admitted that she was pleased to see her clothes worn by celebrities including Madonna, Jennifer Hudson, Katherine Jenkins, Elle Macpherson and Courtney Cox.
"I'm still learning and I still feel I need to prove myself; all my life I've had to prove myself. Each season, I have to better myself. I really want to grow as a designer," she said.
The 35-year-old added that she wants to open her own store "perhaps in five years."
She later told the crowd that she had chosen a taupe one-shouldered floor length dress to wear to the Oscars on March 7.
/Digital Spy/