The latest version of horror stalwart The Thing continues to crawl undaunted towards our screens, and now it has two likely victims in the shape of Mary Elizabeth Winstead and Joel Edgerton.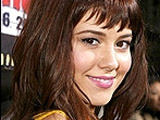 According to the Heat Vision Blog, Winstead, best known for Death Proof and set to be a geeky object of desire for more than just Michael Cera in Scott Pilgrim Vs The World later this year, has signed on to play a PhD candidate who travels with a Norwegian scientific team to Antarctica where an alien ship is found frozen in the ice.
Horrible deaths start to happen when the malevolent life form aboard the ship escapes, and Winstead's scientist must join forces with tough guy helicopter pilot Edgerton to halt the chaos.
Matthijs Van Heijningen is the man orchestrating the chaos, working from a script by Battlestar Galactica's Ron Moore and more recent writer Eric Heisserer.
Universal has booked space in Toronto for the film to start shooting next month. Can it compete with John Carpenter's seminal 1982 take or Howard Hawks' The Thing From Another World? We'll find out next year…
/Empire Online/