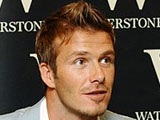 Victoria Beckham has revealed that she loves to help out at her children's school.
The former Spice Girl explained that she has volunteered in the classroom and cafeteria in the past because she loves spending time with sons Brooklyn, 11, Romeo, 7, and Cruz, 4.
Beckham told Glamour: "I travel a fair amount, and when I'm here in LA, everything revolves around the kids. So if I'm not working, I go to the school and help serve lunches to the children. They just love that. It's like, 'Oh, there's Mummy serving me!'
"The other day I was there, I was reading to Cruz's class. All the little girls were saying, 'We really like your dress'. And it was quite cute because I don't have a girl."
The star recently said that her three children have little in common.
/Digital Spy/