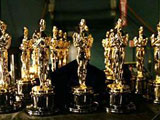 The shortlist for Hollywood's biggest prize is set to be announced.
But, while James Cameron's Avatar is predicted to score highly, it is expected to face stiff competition from The Hurt Locker - directed by Cameron's ex-wife Kathryn Bigelow.
The gritty war drama, about a bomb-disposal team in Iraq, has pipped Avatar at both the Producer's Guild, and the Director's Guild Awards in the States, both of which normally indicate who will win the Oscar.
"The only film that can stop Avatar in its tracks is The Hurt Locker," film critic Jason Solomons told Sky News.
"I think it's both a superb war movie, a political comment about Iraq and also a brilliantly directed piece of art. I think it's the best film personally out there."
If Bigelow herself is nominated, she'll be only the fourth woman in history to be in the running for Best Director - a prize that amazingly no female has ever won.
This year there will be 10 nominees for Best Picture, a move introduced to help include more populist films that might otherwise have been missed out.
Favourites among the critics to make the shortlist include Inglourious Basterds, Up In The Air, Precious, Invictus and the Pixar film Up.
British hopes are not as strong as last year, when Slumdog Millionaire swept the board, with our best chances resting in the acting categories.
Carey Mulligan may receive a nomination for her stunning turn in the coming of age drama An Education, which is already in the running for Baftas.
But she will have her work cut out for her going against likely favourite Sandra Bullock and possibly Meryl Streep.
Our strongest home-grown hope lies with Colin Firth for his mesmerising leading role in A Single Man.
He could get a nomination for Best Actor, potentially going head to head with Jeff Bridges, George Clooney and Morgan Freeman.
Firth told Sky News he was keeping calm.
"The award season is long and it's quite good to have an anaesthetic administered," Firth explained.
"There are a few in my cases, like fatigue, jetlag, excitement and lots of buzz… which can buzz you into a state of almost stupification. But my emotions are reasonably under management."
But surely he would not say no to a chance to put an Academy Award on his mantelpiece at home?
"One on my mantelpiece would definitely be a conversation piece," Firth laughed, "There would probably be no other topic of conversation for a very long time."
/Sky News/