Kylie Minogue ditched her glamorous pop star image for a night and was snapped make-up free in London.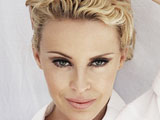 The pop princess went home to her Chelsea flat looking like an average 41-year-old with un-brushed hair and a washed out face.
Once the Aussie singer realised she'd been caught out, she quickly logged onto Twitter and uploaded a sexy photograph of herself from a recent Spanish Vogue shoot.
Posing in a seductive stance in a little black dress on, Kylie vamped up her image again with the help of Vogue.
While recently shooting for the magazine in Spain, she also spent time with her boyfriend Andres Velencoso Segura's family, the Daily Mail reported
/Metro.co.uk/
Click to englarge: