Anne Hathaway will be honoured at Harvard University as Hasty Pudding's 'Woman Of The Year', says E!.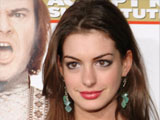 The Alice in Wonderland star will attend a ceremony in February at the Cambridge, MA campus.
The award is given to performers who have made a "lasting and impressive contribution to the world of entertainment", according to the Hasting Pudding's group website.
Past honourees include Scarlett Johansson, Charlize Theron, Halle Berry, Sandra Bullock and Catherine Zeta-Jones.
/Digital Spy/