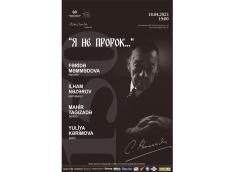 By Azernews
Laman Ismayilova
International Mugham Center will mark the 150th anniversary of the great Russian composer Sergey Rachmaninoff on April 18.
The evening of chamber and vocal lyrics will be held within BakuOperArt project, Azernews reports.
Calling the program "I am not a prophet..", the artistic director of the project, pianist Yulia Karimova together with vocalists, Honored Artists of Azerbaijan Farida Mammadova (soprano), Ilham Nazarov (countertenor) and Mahir Tagizade (baritone) will share Sergey Rachmaninoff`s vision of the special artistic world, which combines poetry and music, becoming a real spiritual confession.
Media partners of the event are Azernews.Az, Trend.Az, Day.Az and Milli.Az.
Born into a musical family, Rachmaninoff took up the piano at age four. He graduated from the Moscow Conservatory in 1892 and had composed several piano and orchestral pieces by this time.
Early influences of Tchaikovsky, Rimsky-Korsakov, Balakirev, Mussorgsky, and other Russian composers gave way to a personal style.
Rachmaninoff composed his brilliant 2nd Piano Concerto, and made a comeback with successful concert performances. From 1904-1906 he was a conductor at the Bolshoi Theater in Moscow.
In 1909, Rachmaninoff made his first tour of the United States, having composed the 3rd Piano Concerto. He appeared as a soloist with Gustav Mahler conducting the New York Philharmonic.
He wrote five works for piano and orchestra: four concertos—No. 1 in F-sharp minor, Op. 1, No. 2 in C minor, Op. 18, No. 3 in D minor, Op. 30 and No. 4 in G minor, Op. 40 as well as the Rhapsody on a Theme of Paganini.
The Russian composer died on March 28, 1943, in Beverly Hills, California, and was laid to rest in Kensico Cemetery, New York.