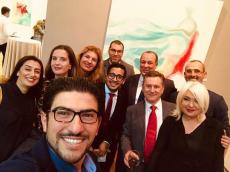 By Azernews
By Laman Ismayilova
Baku Museum Center hosted an opening of the exhibition of famous Portuguese artist Carlos Mota "Found and findings".
Addressing the event, chargé d'affaires of Portugal in Azerbaijan Jorge Fonseca stressed that he was extremely happy to organize such an event in Baku.
He spoke about Mota's awards and achievements, as well as expressed hope that the exhibition would attract the attention of Baku residents, Report.az informed.
In his turn, the artist himself said that he is in Baku for the first time and very happy to organize an exhibition in such a wonderful city.
The works of the artist Carlos Mota combine multiple interpretations. His canvases are inspired by various emotions and glorify the freedom of imagination. The most interesting fact is that the artist's art works are painted with juices of natural vegetables and fruits, like original watercolors.
Carlos Mota, born in Ponta Delgada, Portugal, graduated in Interior Architecture at CAD - Centre des Arts Décoratifs and Painting at École des Arts D'lxelles in Brussels, Belgium. He currently lives and works in Lisbon.
His work has been showcased in both public and private collections in various countries, such as Portugal, Spain, Italy, Belgium, Germany, Holland, Denmark, Mexico, U.S., Canada and Brazil. Morever, he was the ?rst contemporary Portuguese and foreign artist to be invited to have a piece in the permanent private collection of the Federal Presidency of Brazil at the Planalto Palace.
His career years of 1993-2002 were brought to life in a ?lm called "Soul Adventures" ("Aventuras do Espírito") by director Teresa Tomé and broadcast on several Portuguese TV channels.