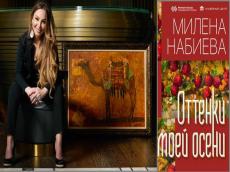 By Azernews
By Laman Ismayilova
An exhibition of talented artist Milena Nabiyeva will be held at the Museum Center's Art Gallery on November 7-11.
More than 60 art works inspired by different autumn colors will be presented to art lovers, yenicag.ru reported.
Milena Nabiyeva defines her creative style as decorative and applied art, which allows her to slightly expand the possibilities of artistic performance.
In February 2017, art lovers got the opportunity to familiarize themselves with the diversity of interests in the creative palette of the young artist, who had already successfully participated at the exhibitions in Ankara and St. Petersburg.
Filled with sunlight and bright colors,a first solo exhibition of the young and talented artist Milena Nabiyeva "Minabi - Patterns of the Universe" was held in the Baku Museum Center as well.
The exhibition aroused great interest of art lovers. This time, Milena decided to present her works in a cozy atmosphere of the restaurant and under pleasant classical music.
"Minabi - Patterns of the Universe" is a bright palette that reflects the artist's personal feelings.  The artist expressed her inner world not only in paintings but also in furniture, painting on crockery, textiles and accessory.
The exhibition "Shades of My Autumn" is like a continuation of the dialogue begun between a year and a half ago between the artist and her audience.
The idea of ??the exhibition is based on the philosophy of human growth as a change of seasons.
The exhibition opens at 19:00.