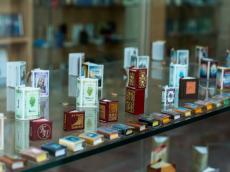 By Azernews
By Laman Ismayilova
The Museum of Miniature Books is among the hidden treasures of Azerbaijan.
Located within the oldest part of Baku city - Icheri Sheher, the museum is included in  the Guinness Book of Records as the museum with the largest number of miniature books. 
The museum opened its doors in 2002 and owns one of the world's great collections of miniature books.
The creator of the museum, Zarifa Salakhova has made a unique contribution to the world of small books. 
The main objective for the establishment of the Museum was to revive love for books among the youth.
One of the world's first miniature books museums is home to over 6,500 books published in 71 countries.
The collection contains "Flower Alphabet", "Pictures of English History", Pushkin's "Yevgeni Onegin", "La Fontaine Fables" and the 24-volume "One Thousand and One Nights" a seminal work in Arabic literature.
All the books are categorized under titles including Azerbaijan, rare books, religious books, Russian history, Russian classics, Western classics, cinema, Central Asia, America, Europe and China.
Miniature books of Azerbaijani writers including the works of Khurshidbanu Natavan, Nizami Ganjavi  and many others also found their place in the museum.
The oldest book in the museum is a miniature copy of the Holy Quran, dating to the 17th century. The smallest tome in the museum is the Russian book "The Most Miraculous Thing," (6mm x 9mm)  which can only be read by using a magnifying glass.
One of the prized volumes in the museum is "The Inaugural Address of John Fitzgerald Kennedy, President of the United States which was delivered at the Capitol in Washington D.C. on January 20, 1961. 

There are also literary works by British and American authors such as Shakespeare, Bobby Burns, Conan Doyle, Jack London, Edgar Allan Poe, Hemingway, O'Henry and others.
Furthermore, there is a miniature book which consists of the songs of ''Beatles'' music group. New publications are regularly added to the collection in the museum.
Ganja Branch of Museum of Miniature Books was opened in 2016. There are more that 1,045 copies of miniature books published in various countries. The exposition also includes books in Russian, Turkish, English, German, Arabic, Georgian and other languages.
The museum is open to visitors for free.