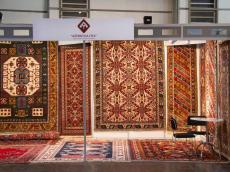 By Azernews
By Laman Ismayilova
Azerbaijani carpets cause great interest at the world's premier auctions and galleries. 
The carpets woven in 10th-19th centuries were sold on auction in Vienna (2013), London, and New York (2014).
Most carpets belonging to Garabag, Gazakh-Borchali, Tabriz and Guba groups were sold for 10,000 euros, and the most expensive - $233,000. Azerbaijani carpets sold for $744,200 at the Grogan Auction on 20 November 2016 during the sale of personal collection of Mitchell and Rosalie Rudnik.
An interesting point is that "Azerhalcha" produces new products on the basis of the carpets they sell at trades. Modern Azerbaijani carpet-makers demonstrate that they have national values ??through the restoration of historical memory.
Azerkhalcha was established in May 2016 under the decree of President Ilham Aliyev. The Company is focused on production and export of carpets and carpet products, organization of sales both domestically and internationally, application of new technologies in the production of carpets and carpet products, modernization and productive usage of equipment and facilities, and implementation of other tasks related to the development of this field.
At present, the branches of Azerkhalcha operate in Horadiz, Guba, Khachmaz, Tovuz, Gazakh, Agstafa, Gabala, Ismayilli, etc.
Unique Azerbaijani carpets are well-known all over the world for their quality and high artistic value. Besides, amazing and fantastic carpets of Azerbaijan represent a real mystery, leading one inside the fairy tales full of majestic feelings.
The Land of Fire has seven carpet producing regions including Baku, Shirvan, Guba, Tabriz, Karabakh, Ganja and Gazakh and each of them had its own technology, typical patterns and colors.
Colorful Karabakh carpets, which are classified in four groups, represent a fabulous symphony of the most delicate shades of the amazing Karabakh nature.
Karabakh carpets still retain their glory, featuring in many prestigious international auctions, estimated at tens of thousands of dollars. Samples of the Karabakh carpet weaving as cultural heritage of Azerbaijan, kept in major museums, including the Louvre, Hermitage, and adorn the Vatican and the White House.