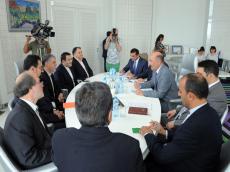 By Azernews
By Laman Ismayilova
Azerbaijan's Minister of Culture and Tourism Abulfas Garayev  held a meeting with the Minister of Culture and Islamic Guidance Seyyed Abbas Salehi on June 27.
At the opening of the meeting, Abulfaz Garayev said that Azerbaijan and Iran are two fraternal states that support each other in the international arena and are in solidarity on many issues. He expressed satisfaction with the level of development of bilateral ties in the field of culture. The minister recalled that last year the Days of Azerbaijani Culture in Iran were held at a high level.
Seyyed Abbas Salehi, for his part, expressed gratitude for the warm welcome, adding that the main purpose of his visit is to hold the Days of Iranian Culture in Azerbaijan. He stressed that such events will give a new impetus to the development of bilateral relations, promote familiarity between cultural and art figures of  two countries.
It was noted that concerts with participation of Iranian masters of arts, exhibitions, screenings of films and theatrical performances are planned within the framework of the Days of Culture.
Days of Iranian Culture will be held in Baku on June 27 - July 1.
An exhibition of handicrafts, photographs, paintings, samples of national clothes will take place in Baku Museum Center in Baku on June 27, at 17:00.
The opening ceremony and concert of the Iranian National Orchestra at the State Academic Philharmonic will be held at 19:00.
The film "Muhammad: Messenger of Allah"  will be screened in Nizami Cinema Center on June 28, at 17:00.
At 19:00, Titovak theater will stage "Divine Comedy, Hell" in the State Musical Theater.
The concert of Iran's National Orchestra will be held in Ganja State Philharmonic on June 29, at 19:00.
Azerbaijani and Iranian peoples have common cultural and religious traditions. Two countries successfully cooperate in many areas, including agriculture, transport, tourism, industry and other spheres.
Baku hosted the Iranian Culture Days within the 4th Islamic Solidarity Games in 2017.
The events were of big interest among Baku's residents. Representatives of the country performed at a series of concerts, featuring country's national songs and dance numbers.
The Days of Iranian and Azerbaijani cultures in 2010 and 2011 also kicked off with a great success.