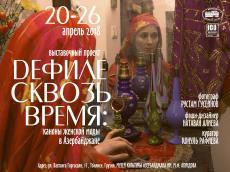 By Azernews
By Laman Ismayilova
The Azerbaijani Culture Museum named after Mirza Fatali Akhundov in Tbilisi together with the Initiative Association of Curators (ICU) will present a photo exhibition on April 20-26.
The exhibition is organized as part of the photo project "Defile through Time: Canons of the Women's Fashion of Azerbaijan" by Azerbaijani photographer Rustam Huseynov.
The project concept includes a visual demonstration of the most interesting design samples of historical Azerbaijani costumes to modern spectators, illustrating the evolution of women's fashion through temporary space and its reflection in the modern fashion context.
The project's curator, Konul Rafiyeva, aims to show national identity through the traditional costume of an Azerbaijani woman who for centuries has been a reflection of the unique culture of the Azerbaijani people.
Rustam Huseynov devoted a series of photos to the beauty and diversity of traditional women's clothing, combining cultural and historical interest with the design. Its exposition includes 25 portraits of girls in traditional clothes of various regions of Azerbaijan, showing the versatility of customs and life of the country. During the preparation of works, samples of clothes from the personal historical collection of designer and clothing collector Natavan Aliyeva were used.
Reconstruction of traditional images of historical epochs is an important stage in saving the national cultural heritage and recognizing the national image in the mass consciousness, lost by public memory and known only to a very narrow circle of specialists.
In his works, Rustam Huseynov pays special attention to the interpretation of traditional headdresses of women of Azerbaijan, emphasizing age and social differences. The delicate silk handkerchiefs - kelagayi combined with diadems and arahchin, rounded skullcap.
Azerbaijani women, leaving the house, covered the top of any clothes and headgear with charshab (veil), made of cotton, silk or printed fabrics.
The outer clothing covering the shoulders - arhalyg, chepken, lebbade, kuledje, kurdu, eshmek and bahari.  They also had a basque, which emphasized the waist.
The presence of a lush multilayered skirt made the silhouette of the woman more voluminous and visually appealing.
These traditions are successfully continued by modern Azerbaijani clothing designers. Within the framework of the project "Fashion show through time: the canons of women's fashion in Azerbaijan", a modern collection of Azerbaijani designer Natavan Aliyeva "Neo Classic Love" will be shown. The collection shows the modern perception of the diversity of traditional women's costumes in the context of a resurgent ethno-style fashion in everyday clothes. Recalling the author's photographs of the traditional image of the Azerbaijani woman, fashion collection, modern in cut and shape, but accentuating the viewer's attention on the colors of 19th-century national clothes such as claret, blue, turquoise, uses elements of the national wardrobe - kelagayi and knitted socks. The motifs of the national embroidery dominate in hand-made and with the scrupulousness, accessories, inherent in the designer. This collection links the historical past of the Azerbaijani women's costume with modern fashion trends.