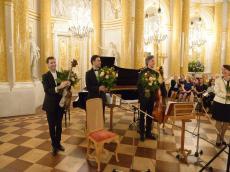 By Azernews
By Laman Ismayilova
The Royal Castle in Warsaw has hosted a gala concert dedicated to the 90th anniversary of the world-famous cellist Mstislav Rostropovich.
The concert was attended by government officials and members of the Polish government, including Deputies of the Sejm and Senate, heads and members of diplomatic missions accredited in the country, international organizations, prominent public and political figures, scientists and cultural figures, members of the Azerbaijani community, businessmen and journalists.
Artistic director of  Warsaw`s Royal Castle, Alexandra Bushta, spoke about the life and creative path of the great musician, adding that she was happy to welcome guests from Azerbaijan.
Then pianist Murad Huseynov, honored artist, tar player Sahib Pashazadeh and, cellist Alexei Miletich performed on the stage, Trend Life reported.
The works by J. Bach, R. Schumann, F. Chopin, S. Rachmaninov, Me.Hajibayli, G. Garayev, O. Zulfugarov, T. Guliyev, A. Badalbeyli, A. Sabirova, F. Badalbeyli and other composers sounded at the event.
After the concert, music lovers approached the performers with questions about Azerbaijani music, mugham, folk instruments. Azerbaijani musicians were invited to perform in concert in other countries.
The event was co-organized by Azerbaijan Ministry of Culture and Tourism and Azerbaijani Embassy in Poland.
Azerbaijani President Ilham Aliyev signed a decree on holding events dedicated to the 90th anniversary of legendary cellist Mstislav Rostropovich in February, 2017.
The Ministry of Culture and Tourism was instructed to prepare the plan of events.
Born in Baku, Azerbaijan Rostropovich was internationally recognized as a staunch advocate of human rights, and he was awarded the 1974 Award of the International League of Human Rights.
He inspired and premiered over 100 pieces and formed long-standing artistic partnerships with  such prominent composers as  iDmitri Shostakovich, Sergei Prokofiev, Henri Dutilleux, Witold Lutos?awski, Olivier Messiaen, Luciano Berio, Krzysztof Penderecki, Alfred Schnittke, Norbert Moret, Andreas Makris and Benjamin Britten.
A five-time Grammy Award winner, he has become one of the West leading conductors.
He was married to the soprano Galina Vishnevskaya, who was named a People's Artist of the USSR in 1966.They performed together regularly.