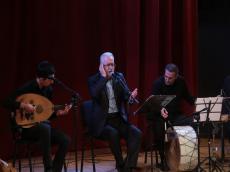 By Azernews
By Laman Ismayilova
The Rashid Behbudov State Song Theatre has hosted a literary evening dedicated to the famous Turkish poet, author of the Turkish National Anthem, MP - Mehmet Âkif Ersoy.
Turkish ambassador to Azerbaijan Erkan Ozoral, MPs Hikmet Babaoglu and Musa Gasimli, Head of Yunus Emre Institute Ibrahim Yildirim attended the event, organized by the Baku Yunus Emre Institute, Trend Life reported.
The evening began with performance of the National Anthems of Azerbaijan and Turkey. The speakers spoke about Mehmet Âkif Ersoy`s contribution to the development of Turkic culture, and strengthening of the statehood of the brotherly country.
They noted that his poetry reflects the social, moral and political problems of Turkey in the early 20th century. As the author of Turkish National Anthem, he was nicknamed the "Poet of the Nation".
 Mehmet Âkif Ersoy`s poetic works are collected in the book "Safahat", which consists of seven books: Safahat, Süleymaniye Kürsüsünde, Hakk?n Sesleri, Fatih Kürsüsünde, Hat?ralar, As?m, Gölgeler.
Then, children's choir of Baku Turkish Lyceum Türkiy? D?yan?t V?qfi, honored artist Parviz Mamedrzayev, actress and composer Sevinj Tofiggizi, folk singer Novruz Novruzlu and 'Savalan" group performed in a concert organized as part of the event. Guests also enjoyed "Shadow play" as well as poet's works "?stiqlal Mar??", "Atiyi qaranl?q gör?r?k ?zmi b?rakmak", "Çanaqqala ??hidl?rin?" and others.
Ersoy was a Turkish poet, writer, academic, member of parliament, and the author of the Turkish National Anthem. Widely regarded as one of the premiere literary minds of his time, Ersoy is noted for his command of the Turkish language, as well as his patriotism and role in the Turkish War of Independence.
He is best known for his 1911 work entitled Safahat. This volume is a collection of 44 poems of various lengths by Mehmet Akif Ersoy.
He is further noted for writing the lyrics of Turkish National Anthem, ?stiklâl Mar?? (The March of Independence) – which was adopted in 1921.
Mehmet Âkif Ersoy died in 1936, at the age of 63.
Media partners of the event were Trend.az, Day.az, Milli.az, Azernews.az