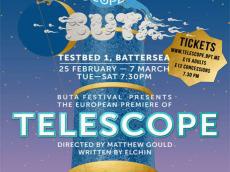 By Amina Nazarli
A premier of 'Telescope' play by Elchin Efendiyev, a famous Azerbaijani playwright, will be staged in London as part of the second Buta Festival of Azerbaijani Arts.
The performance will be showcased in between February 25 and March 7.
Telescope will receive its first performance in English in an immersive production, directed by English Matthew Gould. Already performed in other languages around the world, this UK production will be lead by esteemed British actors Chris Simmons and Tanya Franks.
The cast includes: Chris Simmons, Tanya Franks, Joe Eyre, Sergio Covino, Anna Darvas, Paul Brennan, Rachel Esposti, Amanda Reed, Elliott Bornemann, Felicity Jolly and Hannah Genesius.
Chris Simmons, who played DC Mickey Webb in The Bill, has been cast in the role of 'Man'. Chris, who is known for his lead roles in Casualty and Doctors, also played Mark Garland in EastEnders, a famous British soap opera. Playing opposite Chris in the role of 'Woman', Tanya Franks has held lead roles in several prominent British productions.
Elchin's satire introduces us to a man hovering halfway to heaven after dying. He finds himself at a Way Station to Heaven, administered by angel bureaucrats and filled with other souls patiently awaiting their ultimate journey onwards. Guided through the system by the soul of an old flame, the man gets an unusual perspective of the family and friends he left behind on Earth, giving him a bird's eye view of what they really think of him – and in the process he discovers more than a few truths about himself.
Elchin's plays are fascinating multi-levelled observations on the paradoxical effects of modernity on us all. His familiar human characters encapsulate the heart and soul of contemporary Azerbaijan, often referencing the overlap with life in Soviet times and even more fantastical settings. Telescope has all the hallmarks of Elchin's spot-on, yet gentle satirical style.
Aloff Theatre brings 'Telescope' to the London stage for the first time in an immersive adaptation that gets to the heart of a story, challenging our conceptions of what we believe and what we know about our lives.
Playwright and novelist Elchin was born into a literary family in Baku in 1943. He is today regarded as one of Azerbaijan's most prominent contemporary writers. His first novel was published in 1959, when he was just 16. With over 100 books published in more than 20 languages, covering everything from Azerbaijani folklore to eastern classical literature and classic dramas of the likes of Shakespeare and Moliere, Elchin is a national treasure.
Since the fall of the USSR Azerbaijan has enjoyed a cultural and artistic renaissance, rediscovering its heritage and creative freedom. The perfect crossroad in between east and west, Azerbaijan had proven to be more vibrant than ever.
The Buta Festival aims to introduce Azerbaijan to the British cultural scene.
The first Buta Festival of Azerbaijan Arts was held in London from November 2009 to March
2010. During the festival, Londoners got acquainted with Azerbaijan's most celebrated musicians, artists, poets and filmmakers.