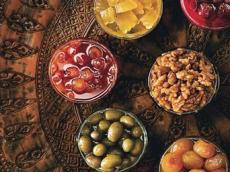 By AzerNews
The second sweet Murabba Festival was held in Gabala on August 24.
Co-organized by the Culture and Tourism Ministry of Azerbaijan, Gabala Executive Power, the National Cuisine Center and the National Cuisine Association of Azerbaijan, the event took place in "Caucasus Karvansaray" hotel.
The festival, which brought together several ambassadors accredited to Baku, more than 3,000 local people and foreign tourists will be remembered by all of them as a sweetest day.
Addressing the opening ceremony Sabuhi Abdullayev, the head of Gabala Executive Power, Fikret Babayev, the head of the department of Culture and Tourism Ministry and Tahir Amraslanov, the president of the National Cuisine Center, welcomed the visitors and wished them to enjoy the traditional sweets.
They noted that it is also planned to hold this festival at the international level.
Participants came from Shaki, Absheron, Gobustan, Shamakhi, Balakan, Gakh, Ismailli, Agdash, Goychay, Ujar, Zardab, Zagatala, Khachmaz, Gusar, Guba, Gadabay, Goranboy, Ganja, Oguz and Gabala.
Guests had a chance to taste delicious kinds of murabba, which were laid on the tables.
The main innovation of the festival was tomato and eggplant murabba, which attracted the attentions of visitors, especially foreign tourists.
As many as 12 juries assessed dainty murabba, which were cooked in front of the guests.
Sevda Bakhshiyeva's (Ganja) strawberry murabba was recognized as the tastiest one. Fizza Mahmudova (Zagatala, apricot murabba) and Natavan Musayeva (Goranboy, rose murabba) became the second. Sayyara Guliyeva's quince murabba (Gabala), Jala Gadirova's (Ismailli) and Khayala Mikailova's (Oguz) cherry murabba took the third places.
The winners were awarded with medals, money prizes and other gifts.
Executive Powers of the regions also were awarded with the medals. So, Gabala Executive Power was awarded with gold medal, Khachmaz and Absheron Executive Powers with silver and bronze medals, respectively.
The festival was accompanied with an interesting concert.