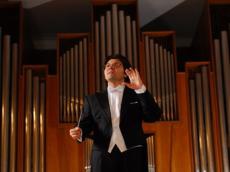 By AzerNews
Well-known Azerbaijani musician will act as a musical producer of "The Marriage of Figaro" to be staged at the Baku State Opera and ballet Theater with international group of actors.
"It will be a great musical event to be attended by famous vocalists from Belarus and Ukraine," Eyyub Guliyev said. "The Marriage of Figaro" is the pearl of world music treasury.
The winner of Orchestra Preference Award and Sinopoli prize will also join the premier of the famous ballet "Seven Beauties" by Azerbaijani composer Arif Melikov.
"I along with my Armenian colleagues will take part in this project. The most interesting issue is that it would be staged by American musicians, which is a unique phenomenon in itself," he said.
The young and talented musician is on the peak of his career, and underscores the big role of outstanding cellist Mstislav Rostropovich in his life.
Rostropovich at first noticed him at a gala ceremony dedicated to great musician's 70th anniversary. Junior Guiyev was performing a wonderful composition together with his father Ramiz Guliyev. He was greatly impressed by the brilliant performance of a classical music in an ancient national instrument - Tar.
"This is just a miracle to play a classic music on Tar," Rostropovich said with great enthusiasm.
Later, Rostropovich invited him and his father to his anniversary gala concert, where Eyyub, as argues, took his first steps.
He still recalls with pride the day of entering of his name on Gold Book of young talents of Azerbaijan by Heydar Aliyev and his appointment with a presidential scholarship.
"I had a very good start. I am so lucky that my fate made me familiar with such great figures," he said.
Eyyub called his homeland, Azerbaijan a unique phenomenon saying that the country is developing purposefully. Azerbaijan holds very important international cultural events.
He could not hide his admiration while talking about the views of Baku, combination of classic and modern styles here. He said that those people who are engaged in it have a good taste.
"They understand how to successfully achieve a synthesis of East and West. This synthesis is clearly embodied in our lives," he said.
Eyyub noted that he was surprised by the Carpet museum, buildings of International Mugam Center and Philharmonic, Heydar Aliyev Center. He said that all the guests who arrive in Azerbaijan are wondering how the styles of East and West have been mixed successfully. "These elements clearly indicate how we respect our culture and at the same time keep it up to date," he said.
Eyyub said he is proud of his nation, noting that Azerbaijanis are very hospitable, communicative, friendly and very open.
"Azerbaijanis are one of the most talented peoples of the world. We are all talented in music, even those who are not interested in it," he said.
Although Eyyub's life is closely associated with classic music, he believes that it is necessary to find new ways to develop further.
"Always be aware of the past, but don't stay there, move forward, find some new faces and create new projects. It is related not only to music, but also to art. Your personality, knowledge and feelings play a big role," he said.
Talking about Gabala festival, the award winner of the International Conducting Competition in Romania said that this event has taken respectable and prestigious place among other famous world music festivals long ago.
"Its scale, programs and the large number of famous musicians and orchestras among participants prove once again that the festival gained a great respect," he said. "Many foreign prominent cultural figures who took part in the festival expressed a desire to come back to Gabala. This festival proved that the Azerbaijani people are talented in everything. Thank God, our country has all the capabilities to carry out such activities," he concluded.