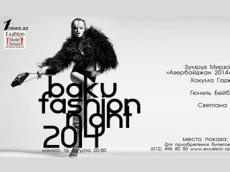 By AzerNews
We have good news for fashion-mongers in Azerbaijan. Baku will host stylish "Baku Fashion Night 2014" in outdoor pool of "Excelsior Hotel Baku" on August 16.
The event is co-organized by Excelsior Hotel Baku and Fashion model school by Lyubov Gutorova.
Such collections as "Outfits", "Pred-a-Porte" by designer Zumrud Mirzaliyeva, "Fall-Winter 2014-2015" by Hokuma Hajiyeva, "Beachwear" by Gunel Beybutova will be demonstrated during the fashion show.
Svetlana Dmitrienko, who was specially invited from Ukraine, will also offer her new collection "Cruise 2014" at the event.
Pop singer Diana Hajiyeva will perform at the show.
Those who want to attend this fashionable event should call Excelsior Hotel Baku by phone 496 80 00 for tickets purchasing.
The prices of the tickets stand at 10, 20 and 30 manats.
Excelsior Hotel Baku was established in August 2005. "Excelsior Hotel Baku" consists of 1 "Imperial"-luxury, 2 "Royal"-luxury, 4 "Crown"- luxury, 45 "Heritage"-standard, 9 "Duke"- small rooms, conference halls, business centers and restaurants.