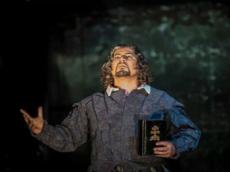 By AzerNews
Famous Azerbaijani opera singer Evez Abdulla successfully performed in Giuseppe Verdi's opera "Othello" at the Municipal Theatre of Opera and Ballet in Santiago, Chile.
Abdulla greatly played the role of Iago. Along with his creative team, he was greeted with a standing ovation.
"I prepared the part of Iago in just two weeks. By the way, a historical fact - Verdi originally wanted to call the opera "Iago" rather than "Othello", as it is very versatile and interesting personality," Abdulla said.
"Frankly, many local critics, theater critics and the media did not believe in such a success. During a press conference on the eve of the play, we were asked such strange questions, as are we not afraid of any responsibility to the very demanding audience. I should note that the Opera and Ballet Theatre of Santiago is considered one of the best in South America," the singer stressed.
"But we have proved our high level of skills and caused a storm of applause among the audience who did not want to let us off the stage," Abdulla added.
The international cast of the opera included conductor Antonello Allemandi (Italy), director Pablo Maritano (Argentina), Othello was performed by Christian Benedict (Lithuania), and Desdemona by Keri Alkema (USA).
Evez Abdullayev is an Azerbaijani artist, laureate of international competitions, winner of award of the Azerbaijan's President, an honorary medal of Irina Arkhipova Foundation.
Baritone Abdulla is soloist of the Azerbaijan State Opera and Ballet Theater who shines on the European scene in Germany, France, Italy, Czech Republic, Slovakia, Austria, Spain and Greece.