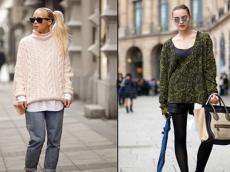 By AzerNews

While we are desperately seeking new ways to escape the hot summer and taking every opportunity to go to the sea for sun tanning, designers are diligently working to create a perfect image for us during cloudy fall and cold winter days.
Representatives of many fashion houses have presented their collections for fall-winter 2015. These collections differ with last years' collections in terms of colors and unusual style. New collections show that this winter will not be boring.
Well-chosen colors not only refresh the style, but also transform a "gray mouse" to a particularly confident woman.
There are some colors for fashion-mongers, which will be irreplaceable this fall-winter. Shades of autumn forest, the whole range of blue shades, muted yellow, purple haze, red Spanish wine and certainly pastel shades would remain among the dominant colors this year. But red will have the highest position in the new seasons.
Designers are expected to offer dresses from translucent fabrics with elements of sport style using lace and ruffles and ladylike style clothes in which pantsuits will have the upper hand. But special attention is paid to the oversize style.
Oversize is thought-out casual stile, when you usually wear clothes bigger than your real size. Many famous fashion designers included oversized clothes to their fall-winter 2015 collection. Knitted and warm oversized sweaters with colorful print will make you feel comfortable in the cold rainy day.
This is a good news for those who are concerned about their weight and do not know what to wear. Fashion houses offer many variations of dimensionless clothing. These oversized dresses, shirts, T-shirts, jeans, trousers and other clothes are very comfortable in everyday life. In addition, they give you an opportunity to hide your figure flaws.
What you must have for 2014-2015 are coats of massive sizes. You can wear them both with oversized and little black dress. However, famous fashion designers as well as Karl Lagerfeld suggest wearing them with sport style, especially with trainers.
The oversized style - which is very similar to boyfriend style - is very likely to be the main style this year. Walking in the city you can see people in torn jeans and wide t-shirt, which is very comfortable in hot summer days in comparison with tight clothing.
Oversized style looks incomplete without accessories. Designers recommend completing it with massive bag, sunglasses, jewelry or watches. They also notify to avoid combining this style with rhinestones and spacious skirts, as it may be overloaded. Oversize style doesn't mean that your clothes should hang out. Conversely they must sit ideally and encircle the waist.
This style appeared in 1980th and came into vogue again since 2010. This outfit stays as a symbol of femininity, regardless of size and style.
If you carefully pick up oversized clothing, you can easily create an unusual and stylish appearance this winter.