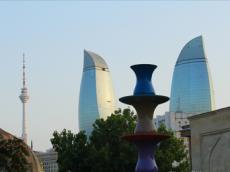 By AzerNews

The second Baku International Sport Film Festival (BISFF) will be held at Nizami Film Centre on November 17-22.
The festival will be co-organized by Culture and Tourism Ministry, Youth and Sports Ministry and National Olympic Committee.
The festival is aimed at promoting films which contribute to the development of sports. The other goals of the festival are as follows: encouraging filmmakers to make more films, attracting the attention of other nations to Azerbaijan's potential in sports on the eve of First European Games scheduled for 2015 in Baku.
Presented films will be judged by an international jury of seven members, including cinematographs and experts.
The jury will pick up three films in 5 categories including: Sport and World, Sport and personality, Feature film, TV Movies and Programs and National Films.
The winners will be awarded with diplomas and cash prizes. The best film of the festival will get a Grand Prix.
Seminars and discussions among film authors, sport experts and media will be held along the festival.
The interested filmmakers can present their works to the festival through www.bisff.az website.
The first Baku International Sport Film Festival was held in October, 2012. People from 20 countries presented more than 50 feature and documentary films then. The festival had only two categories: "Sport and Society" where Azerbaijani film director Arzu Urshan took the first place and "Sport and Personality" where the winner became Vladislav Tertyak from Russia.
The festival is part of the Milan-based International Federation of Sport Movies and Television (FICTS).