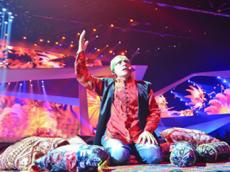 By AzerNews
Azerbaijani Mugham (folk music) singer Alim Gasimov performed in the 48th Montreux Jazz Festival in Switzerland.
The festival will be the scene of other concerts by acclaimed Azerbaijani jazz pianist Isfar Sarabski and other artists including: Rashad Hashimov, American funk and soul jazz saxophonist Maceo Parker and Natig Shirinov.
Gasimov perceives and presents Mugham not only as an ancient art and part of Azerbaijan's musical and cultural heritage but also as a constantly developing tradition.
His performing style is unique, as it combines deep knowledge of centuries-old rules of Mugham with challenging innovations. It is distinguished by extreme intensity which mesmerizes audiences.
Gasimov, 55, was awarded the International Music Council-UNESCO Music Prize in 1999. He is also a master of the ancient Ashig folk art.
The State Oil Company of Azerbaijan is an official partner of the festival.
The Montreux Jazz Festival is a music festival in Switzerland, held annually in early July in Montreux on the Lake Geneva shoreline. It is the second largest annual jazz festival in the world after Canada's Montreal International Jazz Festival.
The Montreux Jazz Festival was founded in 1967 by Claude Nobs, Géo Voumard and René Langel with considerable help from Ahmet and Nesuhi Ertegün of Atlantic Records.
The festival was first held at Montreux Casino. It lasted for three days and featured almost exclusively jazz artists. The highlights of this era were Miles Davis, Keith Jarrett, Jack DeJohnette, Bill Evans, Soft Machine, Weather Report, The Fourth Way, Nina Simone, Jan Garbarek, and Ella Fitzgerald.
In 2007, Azerbaijani Jazzman Shahin Novrasli took second place, and in 2009 Isfar Sarabskiy was the winner of the festival.