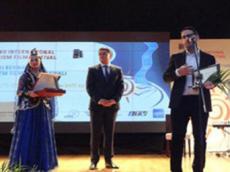 By AzerNews
Winners of the second International Tourism Film Festival were named at the Nizami cinema center in Baku on June 29.
The festival is a non-profit cultural event aimed at promoting films on various aspects of tourism and selecting the most successful films that promote domestic and international tourism. The festival entertained the city on June 25-29.
The event began with the screening of a movie, reflecting the events held during the festival - meetings and workshops, as well as sightseeing tours in Baku, organized for guests of the festival.
This year, the festival received 405 films from 55 countries, 68 of which entered the competition section. The section was divided in six categories. Seven Azerbaijani films represented the country in the competition section this year.
Movies were evaluated by an international jury, consisting of local and foreign cinematographers and tourism experts, including Ayaz Salayev, Aynur Talibova, Vugar Shihammadov from Azerbaijan, Alexander Kammel from Austria, Spomenka Saraga from Croatia, Tofiq Shahverdiyev from Russia, and Can Ozbatur from Turkey.
Grand Prix of the festival went to the film "Barossa, at your disposal" from Australia. Greece, Bangladesh and Belgium won the awards in the "The country, region, city" category. Turkey, Czech Republic and Latvia won the awards in the "Culture, tradition" category.
An Azerbaijani film about the 30th European Championships in Rhythmic Gymnastics won the silver award in the "Advertising films" category, where Croatia won gold, and Austria took bronze.
The best films in the category "Tourism services" were from Turkey, Austria and Slovenia. The category "Ecotourism and foreign tourism" was won by the UK, Austria and Denmark, while winners of the "TV production" category were films from Austria, Russia and Finland.
The film "Azerbaijan: European charm of the East" won the National Prize and the special prize of jury went to a film from Italia about Maldives.
Winners of the golden awards were rewarded with diplomas, prizes and money, silver and bronze awards owners got diplomas and prizes.
The festival organized by the Culture and Tourism Ministry, included discussions among filmmakers, experts in tourism, and the media, as well as master classes of Polish filmmakers, both theoretical and practical classes.
The first Baku International Tourism Film Festival was held in November 2013, attracting about 80 films from 31 countries in the competition section.