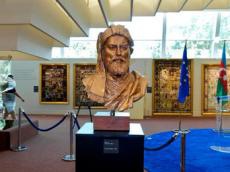 By AzerNews
An exhibition dedicated to great Azerbaijani poet and thinker Nizami Ganjavi of the 12th century has opened in Strasbourg, France.
The exhibition is being held at the Council of Europe headquarters in Strasbourg, within the framework of the project "A Universal Bridge Linking the 12th and 21st centuries: Nizami Ganjavi Creativity (1141 - 1209)", with the organizational support of the Heydar Aliyev Foundation.
The opening ceremony marking the 870th anniversary of great Azerbaijani poet Nizami Ganjavi was attended by Azerbaijani Foreign Minister Elmar Mammadyarov, members of the Azerbaijani delegation under the Parliament Assembly of the Council of Europe (PACE), as well as MPs from the member-countries, and officials of the organization.
Head of Azerbaijan's permanent representative office under the CE Emin Eyyubov and General Director of the Council for Democracy Snejana Markovich delivered the inaugural speeches.
They emphasized that this exhibition, held by the Heydar Aliyev Foundation at the CE as well as other events held within the framework of the project "Cultural Treasures of Azerbaijan: the Pearl of the Caucasus" have been welcomed by visitors with great interest.
Works done by the Heydar Aliyev Foundation, headed by Azerbaijani First Lady Mehriban Aliyeva, towards preserving and worldwide promotion of Nizami Ganjavi legacy were praised during the speeches.
Markovic stressed the importance of the exhibition, hailing it as "a follow-up to the Heydar Aliyev Foundatuion's important works to promote Azerbaijan's rich cultural legacy in the world."
Eyyubov said exhibitions commemorating Nizami Ganjavi were held in many cities across France initiated by the Heydar Aliyev Foundation.
The exhibition also puts on display books and booklets devoted to the creativity of Nizami Ganjavi, as well as Azerbaijani carpets.
Nizami Ganjavi, the 12th century greatest representative of the Eastern Renaissance, displayed the quintessence of world literature and philosophy in his immortal works via the aesthetic power of his art.
Nizami's poems played a great role in the enrichment of the love theme, which is widespread in Oriental literature, with social, universal ideals and humane content. His works have been translated into English, German, French, Italian, Spanish, Japanese, and other languages of the world.
The foundation is also holding cultural events to promote Azerbaijani culture in Germany and Italy.
Photos: AzerTAc