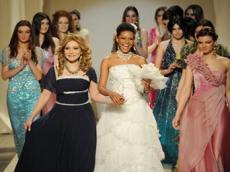 By AzerNews
Azerbaijan's honored art worker and famous fashion designer Fakhriya Khalafova has put on display her collection at the Labo Ethnik, Fashion & Lifestyle fashion festival in Paris.
Fakhriya Khalafova told Trend about the presented collection, which have aroused interest among guests of the event and representatives of media.
"Ancient Azerbaijan is an ideal for me," she said. "There are folk motifs of Azerbaijani national clothes and global fashion trends in this collection. To my mind, ideals of East and West are originally combined in presented collection."
Fashion designer also created a dress in ethnic African style in gift for the fashion festival. She added that promotion of African ethnic style is one of the main themes of the festival.
"African ethnics, impressive for its pronounced flavor and passionate temperament is one of the most famous ethnic styles of clothes and jewelry. Expressiveness of the African motifs is so large that fashion designers working in a variety of directions use them in their works. Prints in the African style, unusual to our eyes tribal ornaments, rich colors of natural fabrics - all these characteristic signs of African ethnic style of dress can be seen on fashion runways in almost every season," she emphasized.
African style, is certainly one of the most recognizable, so many fashionistas are often tempted to use it to create expressive ethnic image, Khalafova added.
Stressing that ethnic style always was at the peak of popularity, Azerbaijani designer said that it means fresh notes and original ideas, which is complemented by modern materials and silhouettes.
"Ethnic style is both very old and very young. Its origins go back to antiquity, in those ancient times, when clothing was no longer just an escape from the weather. Traditional dress appeared when there was a need to transmit messages through clothing, and to denote social status and belonging to a particular race. To this day, ethnic style goes out of fashion. During some periods traditions of various regions and countries become actual. Sometimes fashion designers are coming up with their own variations on the theme of a particular national costume or general ethnic themes," the honored art worker added.
The Labo Ethnik exhibition was born in 2007 when its founder, Yvette Taï-Coquillay, had the will to find fashion designers coming from the five continents to reveal their works on the Parisian scene. Newcomers and more experienced designers can make the most of the event thanks to an expression platform and a showcase in the middle of Paris, capital city of fashion.
Open to an audience composed of professionals (buyers and journalists) and individuals fond of pieces of exception, the Labo Ethnik is an accelerator of trends and growth and a real springboard for these "in the shadow" talents.