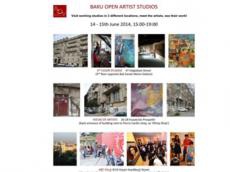 By AzerNews
Residents and guests of Baku will enjoy an opportunity to visit studios of local artists on June 14-15.
The open doors day will be held as part of the project of artistic events and artistic residences "Alov".
The doors of three studious will be open for art lovers on the streets Istiglaliyyat and Hasan Seyidbeyli ("Art Villa" gallery) and Inshaatchilar Avenue in Baku.
The event will be attended by famous and young artists including Hussein Hagverdiyev, Anar Huseynzadeh, Sarah Knill-Jones, Elena Hagverdiyeva, Butunay Hagverdiyev, Aydin Askerov, Aisha Magerramova, Eldar Hasanov, Eldar Babazadeh, Ruslan Kovalev and others.
Everyone is welcome to attend workshops, meet with artists, and watch the way they create their works.
Phones for references (050) 216-89-81, (050) 335-50-16 and (050) 311-73-47.