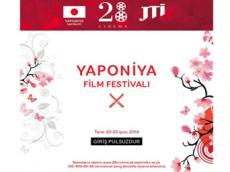 By AzerNews
Baku will hold a Japanese film festival on June 20-23.
"28 Cinema" together with Japan's Embassy and JTI company are preparing to surprise Japan cinema lovers in Azerbaijan.
The detailed program of the festival will be posted further on the official website of the cinema - 28cinema.az.
During the festival, these films will be screened: "Happy Flight" by Shinobu Yaguchi, "Hankyu Railway" by Yoshishige Miyake, "Bushido Sixteen" by Tomoyuki Furumaya, "Shodo Girls" by Ryuichi Inomata, and "From Me to You" by Naoto Kumazawa.
Happy Flight (2008) is a comedy that revolves around the airline workers involved in flight No. 1980 from Japan to Honolulu. When the plane hits a bird soon after its takeoff, the airline workers are forced to attempt a landing in typhoon conditions. Amid all the technical troubles, people responsible for keeping commercial airline flight safe work together to find a way out of their doomed ordeal.
Hankyu Railways (2011) is a short film based on a novel by Hiro Arikawa. During 15-minute, the film shows one-way Hankyu Imazu Line as the backdrop of several characters dealing with various issues in their lives.
Bushido Sixteen (2010) is a film based on a novel by Tetsuya Honda about two kendo students whose matches in junior high school spark a rivalry that continues in the following years.
Shodo Girls!! (2010) is a film based on a true story. Satoko is a high school girl who is fed up with how her town has been declining. Shikokuchuo, Ehime, was a major paper producing town, but the recession hit hard and almost all the stores and arcades downtown were shuttered.
Satoko is inspired to put together a performance calligraphy tournament to revitalize her town.
From Me to You (2010) is a romance drama film based on the manga of the same name. High school girl Sawako Kuronuma is misjudged due to her looks. People tend to think she is scary, weird, or depressed. However, she is actually a very kind and sensitive girl with a positive outlook.
Popular Japan cinema lovers will definitely enjoy this selection of films. The festival is open to public. They can watch the film out of charge.