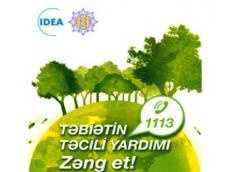 By AzerNews
A hotline, "Emergency care for nature" and a mobile group were set up to resolve the urgent environmental problems and to strengthen the social and environmental control of the population.
They all were set up as part of a joint program "Stop cutting down trees!" by the Heydar Aliyev Foundation and the Public Association IDEA.
The citizens, who witness the facts of illegal cutting of trees, can send IDEA their complaints and recommendations by calling 1113.
In addition, citizens will be able to send their requests in connection with the illegal cutting of trees on the official page of the Public Association
(http://ideacampaign.org/az/file_uploads_aze.html).
For a more detailed coverage of the issue, photos of the territories where trees are cut down can be uploaded as well to the website.
Established in the frame of the program, the mobile group will investigates complaints, gather additional evidence, photos and videos on the facts.
Once the complaints and recommendations are investigated by the IDEA employees on the ground, all evidence and materials will be given to the Azerbaijan Ecology and Natural Resources Ministry.
The IDEA will watch over the process of addressing the issues mentioned in the appeals.
All appeals received by the IDEA will be presented on the official website of the Public Association in the form of special questionnaires. Citizens will be able to see here incoming calls and monitor developments.
The IDEA is implementing some large-scale local and international projects to protect the environment and promote innovative approaches to solving environmental problems.
The campaign is based on the principles of dialogue, action, leadership, and education - all the essential components for equipping a generation with means of fostering positive and sustainable environmental change.
One of the notable activities of the IDEA during three years of its existence is a massive tree planting campaign during which more than 3,472,000 trees have been planted.