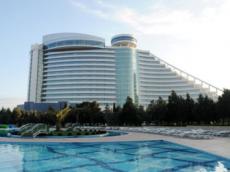 By AzerNews
Equinox Beach Club at Jumeirah Bilgah Beach Hotel will become white on June 28.
The annual MTV White party, organized by the KKM Production, will be held at 10.00 p.m. This year it is expected to be more grandiose and unforgettable.
Famous DJs, including Sebjak, Boil & Void, China, Razy Freeman, performers of Hard Rock Sofa, as well as dance group Go-Go Angels will rock the party till the morning.
According to the organizers, the party will be held with the theme of "When the world clothed in darkness, when the sounds were waiting, emerged a first light beam, but for the last time, it gave hope for the future!"
The event will be photographed by Kamal Muradzade and Yusif Novruzade.
Organizers forewarn that all visitors must be dressed in white.
Tickets are available at MegaSun Solarium, Park Bulvar, and by phone (+994 50) 550 40 10.
For reservations call: (+994 50) 550 40 10, (+994 55) 515 54 44, (+994 55) 515 54 45, (+994 55) 950 29 34.
The cost of tickets will vary depending on the date of purchasing, so hurry up!