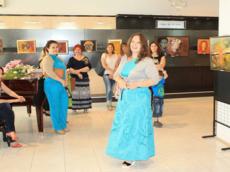 By AzerNews
"Thoughts Aloud", an art exhibition of young painter Tatyana Brovina has opened at the Russian Information and Cultural Center (RICC) in Baku.
Brovina was born in Batumi (Georgia) and lived in Rostov in Russia for a while, but is now living with her family in Baku.
She has been in love with drawing since childhood. The artist's first exhibition, which includes thirty works created in recent years, will run until June 1.
The geography of Brovina's life is learned from her paintings that intertwine Georgian, Russian, and Azerbaijani motifs.
The artist does not follow strict academic rules. Her colorful fantasy reveals that she is constantly in search of her own direction and style.
Brovina also uses various materials like wire, wood, copper, cardboard, and plaster in her art.
The artist's works are a reflection of her inner world and her reaction to different circumstances.
"Russian Information and Cultural Center has always supported the initiatives of Azerbaijan's youth organizations to disclose the creativity of young talents. We congratulate our compatriot Tatyana Brovina for a wonderful debut. Besides painting, she is interested in music and singing, which pleasantly surprised the audience," Head of Rossotrudnichestvo in Azerbaijan Valentin Denisov said.
The artist gently feels the slightest change in tone and makes her works original with colors, Ataman of Azerbaijan's Cossacks Association Viktor Mereshkin said.
"Her unusual paintings attract the viewers like a magnet, mesmerizing them and making them travel between countries and through time, at times leading them to another reality," he added.
The event was also attended by head of the youth department of the Azerbaijan's Cossacks Association Sergei Samuylov, cultural program coordinator of RICC Saida Zohrabova, representatives of culture and art, organizations of Russian compatriots, and social and youth organizations who wished Tatyana Brovina more success.